Arishima Pond, the gene stock of OBIRAME
2022/01/21
You can meet OBIRAME the endangered species
Artificial insemination @Arishima pond last spring
May 2021. ©Hokkaido Fish Films
---
THE STORY OF ARISHIMA POND since 2015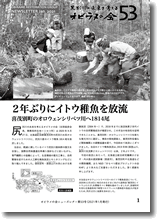 Until the middle of 20th century, OBIRAME were one of the local cultures for Shiribetsu people. Because of the distance from the sea, they caught OBIRAME in the river as delicious foods, sometime as the gift given to guests at a wedding banquet. But today, it is difficult to meet OBIRAME in the wild even the master fishers.
Don't be disappointed! When you come to this Arishima Pond, you can meet such endangered species easily. This is the educational institution for visitors to appreciate the significance of OBIRAME conservation, established in the Arishima Memorial Park by Obirame Restoration Group and Niseko town in 2015.
The group had another pond named Hirafu Pond for OBIRAME in the neighbor Kucchan town. However, around 2016, as some land developers intensified around the pond, the environmental risks increased. The group had no choice but to close the Hirafu Pond, and transported about 20 OIRAME from Hirafu to Arishima in 2017. Since then, the Arishima Pond has accepted another role as the gene stock.
SEE MORE....NEWSLETTER VOL.53(pdf 2.7mb)in Japanese
---
ECO-TOURS
You can always visit the Arishima Pond. Watch your step yourself. Obirame Restoration Group organizes the eco-tour every summer.
ATTENTION
NO FISHING, and keep off except the observation step.
Arishima Pond
---
Maeda Ippoen Foundation supported constructing Arishima Pond in 2015.
---